Metal Backpack Clips for Connecting Belts
The HVAC products are widely used in the America, Canada, Australia and middle east areas. They are the accessories in the duct system, mainly adjust the air mass flow of the ducts.

HVAC stands for Heating, Ventilation, and Air Conditioning. HVAC refers to the different systems used for moving air between indoor and outdoor areas, along with heating and cooling both residential and commercial buildings. HVAC products include the following products: volume control damper, damper kits(spring loaded bearing, solid bearing, stud, washer, handle and wing nut), air regulator(dial regulator, quadrant regulator, saddle regulator, standoff regulator), access door, other duct products(cam lock and keeper, damper clip, isolation hanger, strap with screw), and gas boiler parts(Elbow, Adaptor).

The damper blade is used in the round duct work system for adjusting supply or return air volume, They are field installed into sheet metal starting collars or register boot, it could prevent reverse air leakage in your metal duct lines. These dampers are made from high quality steel and are designed for vertical or horizontal mounting. The damper blades are lightweight yet sturdy for easy opening and closing. The material is galvanized steel and the sizes have 4"-20"(4", 5", 6", 7", 8", 9", 10", 12", 14", 16", 18", 20"). The thickness can be 20GA, 22GA, 24GA, 26GA, and 28GA.

The damper hardware are assembled with the damper blade and would adjust the damper at different angle to control the airflow inside of the duct work pipe system.

The air Regulators are designed for minimum leakage applications. Each regulator is comprised of a frame, an indicator handle, a serrated cast alloy core and a cast alloy nut. Serrations on the cast alloy core mesh with serrations in the frame to firmly lock the regulator in position. Quadrant Sets for all types of volume control dampers used in HVAC systems. Each set comprises Galvanized steel quadrant. GI quadrant sets are suitable for single-skin blades and double-skin blade VCDs.

Since 2011, we have opened a few hundreds of molds for the round and oval damper blades. And every year we will export about 10 millions to 15 millions pieces dampers to the America and Canada. And we will always keep researching and developing more better products to meet your needs and always keep our promises and be responsible for our products. Welcome new and original customers to send inquiries anytime.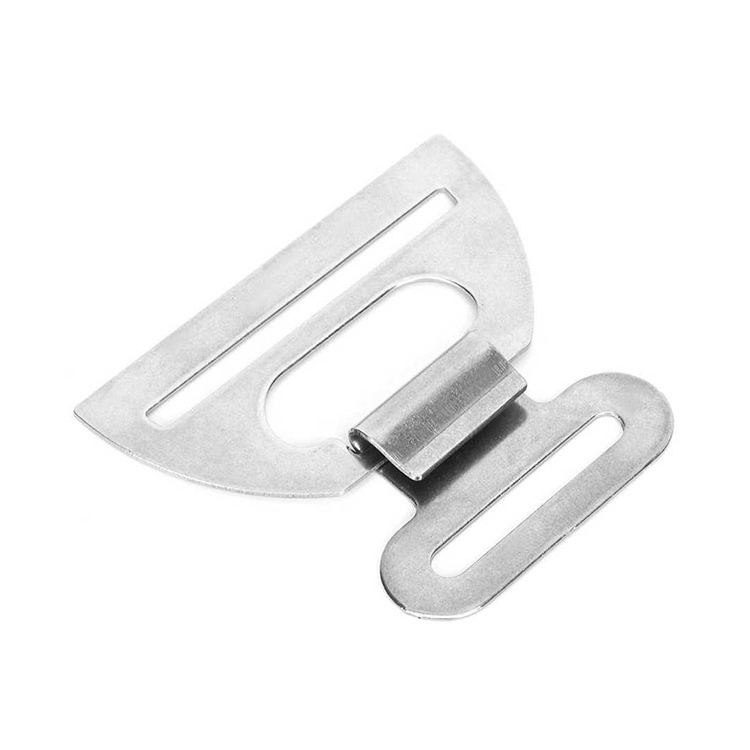 Metal Backpack Clips for Connecting Belts
Feature:• Compressed and pad lockable• Compressed securely• Best corrosion resistance• High-quality steel, well adapted to acid, alkali, high temperature and other special circumstances• Meets European standard Advantage: • Vast Material Resources• Strictest Quality Control• Competitive Price• Excellent Service• Prompt Delivery• Safe and convenient to operate
Learn More
Product : Metal backpack clips
Material : Stainless steel
Application :  Strap fasteners
Surface treatment: Powder coated,Zinc plated,Galvanized
OEM: Available
Color: Silvery or Customized color
Size: Customized 
Processing: Stamping,Bending,Cutting,Punching
---
GET IN TOUCH
Send Us a Message
Since the year of 2010, we have been providing OEM service for old and new customers from more than 40 countries. We have realized to provide fast, stable and reliable One-Stop services for the customers.